Energo Primorsko Holiday Home, 1*
Location: In Primorsko, Burgas municipality.
GPS coordinates: 42.265126, 27.751823
Energo Primorsko Holiday Home is located in one of our Black Sea resorts- Primorsko, on the first line of the south beach and near the beach of the International Youth Centre, near Perla beach and Dyavolska River. The beaches in Primorsko are unique with their length and purity, and their fine, golden sand.
The rooms and the suites have an incredible sea view. All rooms have terraces, bathrooms, LED TV and minibars. Quality of services is very important to us and we have taken the necessary safety measures for your stay. Our rooms and suites are disinfected according to the prescriptions of the health authorities and are cleaned every day during your stay. The common areas are cleaned and disinfected several times daily.
There is a conference hall for about 50 people.
There is a restaurant and a lobby bar. In the restaurant you can try the delicious meals prepared by our master chef, and the lobby bar offers a lot of drinks and sweet delights.
Reception is open from 07:00 until 22:00.
Free Wi-Fi in the reception area. Parking is provided at a cost of BGN 10.00 per day.
Pets are not allowed.
Prices for overnight stays in Energo Primorsko holiday home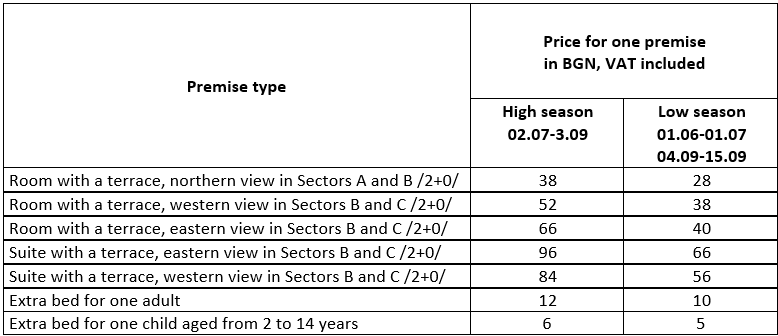 The restaurant is not open in Energo Primorsko.
There are many natural sights in the area, such as the reserves of Arkutino, Tisovitsa, etc. The proximity to the Thracian sanctuary Begliktash and the architectural and archeological reserve in Sozopol can make your holidays very interesting, and the Aquapark in the town offers a lot entertainment for children. Other places of interest you can visit are: the underwater chapel of St. Nicholas the Wonderworker, the rock phenomenon Lion's Head, the ancient Thracian fortress Urdoviza, Ropotamo Nature Reserve, Ravadinovo Castle and Lev Tolstoy's Museum in Yasna Polyana Village.