Energo 1 Holiday Home in St. St. Constantine & Helena Holiday Resort, 1*
Location: In St. St. Constantine & Helena Holiday Resort, Varna.
GPS coordinates: 43.24117, 28.014468.
Energo 1 Holiday Home 1 is located in one of our largest seaside resorts, St.St. Constantine and Helena, only 500 m away from the beach of Sunny Day Holiday Complex. The unique combination of a park, golden beaches and mineral springs in the St. St. Constantine and Hlena Resort gives you a lovely opportunity to enjoy an unforgettable vacation and high spirits! The combination of mineral water and climate here has a great effect on the overall condition of your body, strengthens the immune system and helps to reduce stress and fatigue.
The rooms on the 3rd floor have an incredible sea view. The rooms and the suites have terraces, bathrooms with a shower and are equipped with LED TV and minibars. Quality of services is very important to us and we have taken the necessary safety measures for your stay. Our rooms and suites are disinfected according to the prescriptions of the health authorities. They are cleaned every day during your stay. The common areas are cleaned and disinfected several times daily.

There is a large conference hall for about 100 people and a small one for 25 people.
There is a restaurant and a lobby bar. In the restaurant you can try the delicious meals prepared by our master chef, and the lobby bar offers a lot of drinks and sweet delights.
Reception is open from 07:30 until 22:00.

Free WiFi in the reception area and in the restaurant. Parking is provided at a cost of BGN 10.00 per day.

Pets are not allowed.

Prices for overnight stays in Energo 1 holiday home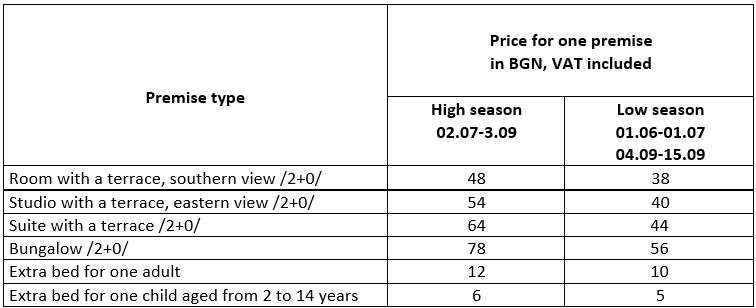 Holiday Home Energo 1 in St. St. Constantine & Helena during 2022 summer season will not accept vacationers.
The places of interest you can visit in Varna are: Dolphinarium, Historical and Naval Museum, Aladzha Holy Trinity Monastery, Planetarium and Aquarium, Zoo.