Energo Borovets Holiday Home, 2 **
Location: In Borovets Holiday Resort in the Rila Mountains.
GPS coordinates: 42.260954, 23.582684.
Energo Borovets Holiday Home is located in one of our largest ski resorts - Borovets, only 150 m away from the ski runs Yastrebets 2 and Yastrebets 3. The famous Tsarska Bistrica Palace is only a 10-minute walk from it.
The holiday home has a capacity of 50 main beds in 11 double rooms and 11 suites, with comfortable furniture, LED TV and minibars. Each room and suite has an amazing view to the dense perennial pine forests. Quality of services is very important to us and we have taken the necessary safety measures for your stay. Our rooms and suites are disinfected according to the prescriptions of the health authorities and are cleaned every day. The common areas are cleaned and disinfected several times daily.

There is a conference hall for about 25 people.

The SPA Centre offers everything you need for relaxation and recreation- sauna, jacuzzi and hydrojet. The gym has equipment for healthy and enjoyable training, and the ski storage and rental facilities offer new ski equipment, snowboards and sledges. We provide assistance in everything related to your pleasant vacation and can offer you excursions with provided transport.

The holiday home has a restaurant and a lobby bar. In the restaurant you can try the delicious meals prepared by our master chef, and the lobby bar offers a lot of drinks and sweet delights.
Reception is open from 07:30 until 22:00.
Free WiFi and free parking.
Pets are not allowed.
Prices for overnight stays in Energo Borovets holiday home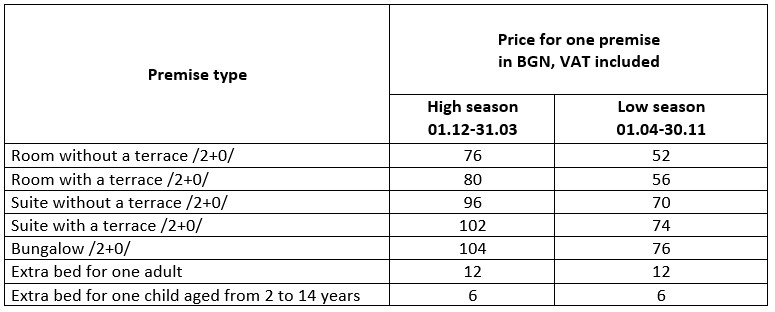 Other places of interest you can visit in the area are: Samokov Historical Museum, Tsari Mali Grad, Saragyol Palace, the Ethnographic Exposition in Dolna Banya.
Ski Runs
• Sitnyakovo 1, 2 and 3
• Cherveno Zname
• Martinovi Baraki 1, 2, 3 and 4
• Yastrebets 1, 2 and 3
• Popangelov
• Markudjik 1, 2 and 3
• Borokids Children's Park